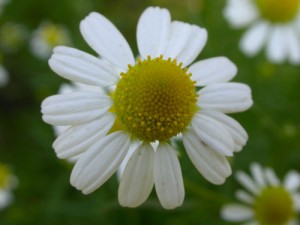 There are two main types of Chamomile that are used medicinally, Matricaria recutita and Chamaemelum nobile.
The studies aren't always clear on which one they are looking at and there are many other varieties as well. Even the scientific names often seem to get confused and/or mixed.
Antidepressant
Anti-genotoxic
Anti-oxidant
"Chamomile induces both the nuclear accumulation of Nrf2 protein and the induction of phase II enzymes, including HO-1, Trx-1 and Prx-1 in RAW 264.7 macrophages." Life Sci. 2012 Jun 27;90(25-26):1027-33.
Anxiolytic
Drug Dependence
M. chamomilla inhibited the development of morphine dependence as well as the expression of abstinence syndrome in rats.
Inflammation
Insomnia
Kidney Protection
PCOS – Polycystic Ovary Syndrome
Ticks
Wound healing