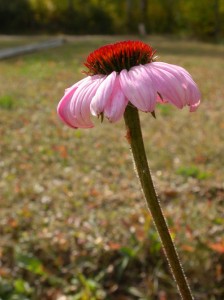 The studies on Echinacea can be very confusing because there are so many variables that you have to watch for, and the information to watch for isn't always provided in the article. Please consider the following questions when reading this information (or studies of any kind).
Which type of Echinacea was used?
What part of the plant was used?
Were whole plant parts used or isolated phytochemicals from the plant parts?
Were these animal studies, human studies or in vitro studies?Were the doses given orally or were they injected?
Fights colds – An article in USA Today says "Lancet: Echinacea does fight colds" This articles is referring to a review that was done on fourteen clinical trials that were done on Echinacea.
NO production – Extracts of E. angustifolia, E. pallida and E. purpurea were tested to observe their effect on NO production. E. pallida was the strongest of the three. This study also demonstrated that the activity attributed to Echinacea spp. is likely due to various phytochemicals (J Ethnopharmacol. 2009 Feb 25;122(1):76-85. Epub 2008 Dec 7) You can read this article for FREE here
Alkylamides – the content and activity of aklylamides was virtually the same in both fresh and dried extracts of E. purpurea root according to these authors. (J Pharm Biomed Anal. 2009 Jul 12;49(5):1141-9. Epub 2009 Feb 20)
Anti-Aging
Extended life span – Echinacea given daily (orally) to mice was prophylactic and extended life span. (Biogerontology. 2005;6(3):157-63.) (eCAM 2005 2(3):309-314; doi:10.1093/ecam/neh118) You can read the article for FREE here.
Anti-microbial
Anti-viral – standardized extract of E. purpurea (roots and aerial parts) were tested in vitro with several viruses, incl. those associated with colds and flus, to examine the results on pro-inflammatory cytokines. In all cases E. purpurea inhibited induction of IL-6, IL-8, as well as other chemokines. E. purpurea was especially effective as an anti-viral against enveloped viruses and supporting echinacea's role in combating colds, flus, and other respiratory conditions (Antiviral Res. 2009 Apr 29.
COPD – administered with zinc, selenium and vitamin C, Echinacea reduced the severity and length of episodes following Upper Respiratory Tract Infection (URTI) http://onlinelibrary.wiley.com/doi/10.1111/j.1365-2710.2010.01212.x/abstract

Dormant infection by HSV-1 – E. purpurea (polysaccharide) was studied in mice to examine the possible benefits in preventing the dormant infection caused by Herpes Simplex Virus type-1. It demonstrated the ability to promote an immune response and a reduced rate of dormant infection and may play an important role in prevention (Intervirology. 2009 Apr 17;52(1):29-34. [Epub ahead of print])
Anti-oxidant
Protecting the liver – Echinacea given orally to rats demonstrated an antioxidant effect for protecting the liver from the toxic effects of Cyproterone Acetate (Pak J Biol Sci. 2008 Nov 1;11(21):2464-71)
Anti-viral
Warts – Significantly more effective than conventional therapy for treatment of cutaneous viral warts http://www.minervamedica.it/en/journals/dermatologia-venereologia/article.php?cod=R23Y2011N03A0191
•Reduced the reoccurrence of HPV anal warts after surgical removal Colorectal Dis. 2010 Aug;12(8):799-803. Epub 2009 Jun 22.
Anxiety
A study published in Phytotherapy Research (Vol 27, Issue 1, pg 54-61, Jan 2013) showed that an echinacea prepartion alleviated anxiety symptoms. http://onlinelibrary.wiley.com/doi/10.1002/ptr.4677/full
The Immune System
Immune modulation – work done with mice demonstrated stimulation of NK cells, both in the spleen and in the bone marrow, and a possible new approach for the treatment of Type 1 diabetes. (Autoimmunity. 2005 Sep;38(6):45361.)
Increases phagocytosis & Natural Killer (NK) cells J Med Food. 2007 Sep;10(3):423-34
The alkylamides are the part found in the blood stream after oral ingestion of echinacea. These phytochemicals show up in the blood stream in as little as 20 min. after ingestion. Molecules. 2005 Oct 30;10(10):1242-51.
Increases IL-3 and erythropoietin (EPO) but not RBCs, Hb, or Hct. Int J Sport Nutr Exerc Metab. 2007 Aug;17(4):378-90.
Prevent excessive immune system reaction – a pilot study demonstrated increased activation of CD25 expression on T cells. These T cells suppress immune responses of other cells, which is an important "self-check" in the immune system to prevent excessiveness. Phytother Res. 2007 Nov;21(11):1109-12.
Low-grade qutoimmune idiopathic uveitis – demaonstrated safe and effective J Ocul Pharmacol Ther. 2006 Dec;22(6):431-6
Reduce mucosal immune suppression – echinacea may reduce the mucosal immune suppression that is know to occur with intense exercise, which may also reduce the length of time being sick due to upper respiratory tract illness. Int J Sports Med. 2007 Sep;28(9):79207
Benign Prostatic Hyperplasia (BPH)
BPH prevention – an extract of E. purpurea (50 mg/kg) demonstrated an ability to prevent development of BPH and reduce the size of existing masses in rats (Phytother Res. 2009 Mar 13. [Epub ahead of print])
Cancer
Leukemia – significantly inhibited leukemia in mice. (Biogerontology. 2005;6(3):157-63.) (eCAM 2005 2(3):309-314; doi:10.1093/ecam/neh118) You can read the article for FREE here.
Combination therapy – a combination of immunization of the tumour cell along with dietary E. purpurea was more effective at sensitizing the immune cells and increasing life span than either therapy alone. (J Altern Complement Med. 2002 Feb;8(1):49-58)
Envenomation
Snake venom – stimulates "the production of antibodies against the specific antigen B. asper venom and to stimulate in vitro the proliferation of lymphocytes. http://www.scielo.sa.cr/scielo.php?pid=S0034-77442007000100011&script=sci_arttext&tlng=e
Inflammation
For pain and inflammation – Constituents from Echinacea angustifolia (Alkamides) demonstrate inhibition of cyclooxygenase-2 (COX-2) activity leading to significant suppression of prostaglandin E(2) formation. This shows that Echinacea may be effective for suppressing pain and inflammation. (Biochem Biophys Res Commun. 2007 Jun 19)
Cytokines – E. tennesseensis tinctures of root, leaf and flower stimulated peripheral blood mononuclear cells in vitro. None had an effect on IL-2, production. Root tinctures modulated IL-beta, IL-10, and TNF-alfa production. The root had the strongest activity. (Cytokine. 2009 May;46(2):267-72. Epub 2009 Mar 14.)
Modulation of inflammation – the effect of a standardized extract of E. angustifolia on the neutrophils of sheep were tested for inflammatory action, and demonstrated immuno-modulation activity. (Vet Immunol Immunopathol. 2009 Apr 15;128(4):366-73. Epub 2008 Nov 27.)
Synergy – an in vitro study demonstrated the synergistic effect of whole plant (parts) for the modulation of inflammation, stimulating IL-10 (significantly) and inhibiting TNF-alfa. the alkylamides had a synergistic effect for modulating the endocanabinoid system. (Int Immunopharmacol. 2009 Mar 19. [Epub ahead of print])
Misc.
Safety – coadminstration with the drugs darunavir or ritonavir in HIV patents was demonstrated to be safe. Antimicrob Agents Chemother. 2011 Jan;55(1):326-30.
Safety – Used with the drug warfarin, a preparation of E. purpurea and E. angustifolia roots demonstrated reduced plasma concentrations of the drug, but didn't affect the effectiveness of the drug (warfarin). Br J Clin Pharmacol. 2010 May;69(5):508-15.
Sore Throat – a spray prepartion was as effective as conventional drug therpay (spray) for sore throat. Eur J Med Res. 2009 Sep 1;14(9):406-12.
Bad Breath – may have benefit in bad breath. J Dent. 2008 Jul;36(7):535-9.
Otitis media – a study using a liquid extract of fresh E. purpurea roots and dried seeds demonstrated that it may increase the risk of reoccurring otitis media in young children. BMC Complement Altern Med. 2008 Oct 2;8-56.
Fermentation – may increase the effectiveness of echinacea http://www.microbialcellfactories.com/content/pdf/1475-2859-12-44.pdf
Wound Healing
Healing under stress – E. pallida was given orally to mice to see what effect it had on wound healing when under stress. the E. pallida increased the speed of healing in the stressed mice but there was no significant effect for the non-stressed mice (Phytomedicine. 2009 Mar 19. [Epub ahead of print])