February is Heart Month. There have been various studies that have come out over the years in the media about how animals… pets… affect your health for the better. So we thought "Heart Month" would be a good time to think about our beloved pets, and learn how we may be able to improve the health and lives of these furry loved ones, because you love your pets.
As a pet owner and herbalist I'm always on the lookout for reliable herbal information when it comes to using herbs for pets, in particular dogs, but also cats, chickens, and horses. I feel that it is thanks to herbal medicine that we had our dog, Camilla, a 60 pound lab cross for as long as we did, considering that during her lifetime she was diagnosed with two different autoimmune conditions, had an incontinence problem caused by being "fixed", and various other cuts and scrapes over the years. Typical treatment for the incontinence, according to vets I've talked to, is hormone replacement. For both autoimmune conditions the vet recommended high dose steroids and antibiotics. We went the herbal route, with the help of a wholistic vet and Camilla stayed pretty healthy for most of her 13 years.
So, how can you use herbs to benefit your pet's health? That's where this book comes in, Herbs for Pets by Gregory L. Tilford & Mary L. Wulff . I'm not usually impressed with herbal books aimed at the general public, but Herbs for Pets is a good one. It's not a book that will break your wallet like some of the other really good ones may.
I fell in love with the first edition of this book many years ago, and this edition looks like they've managed to improve on what they did with the first one. What attracts me to this book is that not only does it give good reliable herbal information for the health of your furry loved one(s), but it does so in an easy to read and understand way.
In this book you'll learn little gems of herbal knowledge such as "we know that Indian tribes of the western United States learned of the powerful antimicrobial properties of Ligusticum porteri by observing bears ingest and roll in the plants to heal themselves. Even today, the plant is still known by many as "bear medicine..""
You'll also learn about the importance of a natural whole food diet for your pet, as well as how to choose and prepare herbs as simple remedies for some of the things you may encounter as a pet owner.
The authors say this about their book, "This is a book about a level of healing that reaches far beyond that which can be provided by science. It is about holistic healing in its truest sense – a process that does not begin or end with the administration of a medicine but with our connection to nature." They talk about animals not just as property but as companions, teachers, and healers. In the case of our Camilla that certainly holds true since I learned a great deal about herbalism, thanks to her, that I wouldn't have otherwise, including a deeper respect for how beneficial it could be.
Amidst the valuable useable information you'll get from this book, you'll learn about herbs that are safe for your pet, a good starting for keeping at home for your pet, how to use herbs like licorice, Gotu Kola, and Red Clover for your pet, and for what health situations.
While this book won't replace the need for a good veterinarian, if you're interested in a natural wholistic approach to pet health you definitely want to add this book to your book collection!
All the best… always,
Elizabeth
———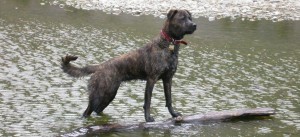 Thanks for all the inspiration and learning Camilla. You taught us much, and you were a wonderful companion. You are missed. ~ Born approx. Dec 2001, became a member of our family in the spring of 2002, departed from us Dec 9, 2014.